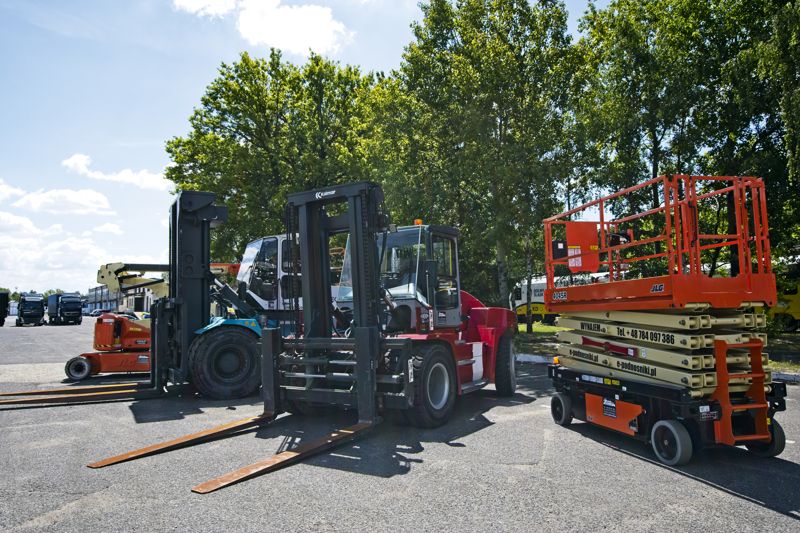 About the Company
We offer for rent aerial work platforms, forklift trucks and scissors lifts at attractive prices. We provide services all over Poland, but we also accept orders from other European Union countries. We try to tailor the needs of our Clients, thus we are not limited to only one province. In order to perform any general construction works it is necessary to use professional, solid equipment. Only such equipment can speed up and enhance the precision of all activities on one hand, and guarantee the safety of personnel and any third person on the other hand.
We are fully aware of significance of proper functioning of every sub-assembly in our forklift trucks, scissors lifts and aerial work platforms. We make sure that technical condition of our machines is regularly inspected, and, repaired, if needed, and that any defective part is replaced. All machines have valid certificates issued by the Polish Technical Inspection, which confirm that you get the equipment that is fully operational. Also, it matters to us that every machine model is clean, that's why before supplying it all impurities are precisely removed.
We provide forklift trucks of lifting capacity from 3 up to 32 t of such well-known manufacturers as Kalmar, Jungheinrich, Still and Toyota. Simultaneously, we offer aerial work platforms (telescopic articulated boom lifts and scissors and vertical lifts) with maximum 26 m lift height, of such brands as JLG and Genie.
All our devices are equipped with complex accessories, which ensures that services provided with the application of our machinery guarantee not only safe but most importantly professionally performed work. We pay attention to the tiniest details, which makes the final effect highly esthetical. Majority of our machines have non-marking tyres, which makes it possible to use them inside production halls having resin floor (without the risk to make them dirty). In addition, we don't forget about functionality and reliability – Clients not only should find fulfilled orders visually attractive, but they should also serve for as long as possible.
Our main assumption is to provide highest-quality services tailored to the needs of our Clients. We approach each order individually and our experience in the area of lifters guarantees high-quality rental of lifters and forklift trucks, complex lifting services and professional service.
We meet expectations by preparing individual offers adjusted to each type of services. If you are unsure whether we meet any of your needs, do not hesitate to contact us by filling out our contact form.
We invite you to cooperate with us!